Miami Hard Drive Destruction
Your paper files contain confidential information, but so does your electronic data. Hard drives are often forgotten as a source of leaked sensitive information, but that just makes them all the more seductive to identity thieves. To keep you, your family and your business safe, be sure to destroy your hard drives completely before you throw them out. The destruction of your hard drives and other electronic media is required for compliance with Florida and national privacy laws, including HIPAA.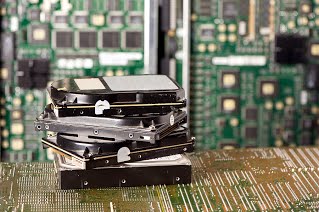 To be sure your information is destroyed, there is no better way than to physically destroy your hard drives and other forms of electronic data. Deleting your files is not good enough—free software exists that allows the extraction of deleted files, so thieves can still access the information.
Luckily, Miami Paper Shredding local contractors offer hard drive destruction services that can be completed at your own location, or at a secure Florida plant. They shred your hard drives to bits and melt down the scraps for metal recycling. This is complete destruction.
Hard drives are not only found in computers. Don't forget about all of the hidden hard drives around your Miami office. Fax machines and copy machines have hard drives that store digital images of what has been scanned, and those images can be recovered. These devices must be shredded before they are sent off to the recyclers. All kinds of magnetic media must be destroyed. This includes CDs, tapes, and hard drives.
The entire process is simple and easy while also being secure and confidential. The process includes the drives being dropped off or picked up. Then, the drives are destroyed by an industrial shredder. Lastly, you will receive a certificate of destruction. This is your reassurance that your electronic data is no longer recoverable. The certificate is also useful for maintaining records for personal or legal reasons.
Get Free Quotes on Hard Drive Destruction Services in Miami
Hard drives are too often overlooked and thrown away without people taking proper security precautions. Miami Paper Shredding contractors will completely destroy your electronic media so the information can never be recovered. Make sure your information isn't vulnerable to thieves. Call us today at (305) 890-1665 or fill out the form on the left for free quotes.